Let us help you "Take your game to the next level"!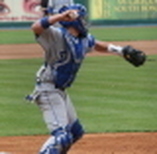 RBI, Real Baseball Instincts, is a premier baseball and softball training facility. We work with athletes to better their hitting, pitching, and fielding skills. We also work with them to improve their mental game, agility, and leadership skills.

Athletes can work out in a 10,000 square foot, temperature controlled environment. We offer four full seventy foot batting cages. Players can improve their hitting fundamentals utilizing Iron Mike pitching machines, pro-quality L-screens, Jugs small ball machines, and Iron Jenny fastpitch softball machines. In addition, pitching skills can be developed with the pro-size portable pitching mounds and softball pitching lanes. Agility and core strength can be improved with the variety of agility equipment available.

---
FACILITY HOURS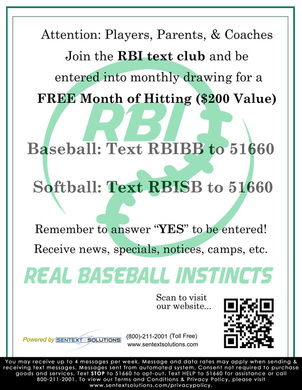 Monday 3:00 pm - 9:00 pm
Tuesday 3:00 pm - 9:00 pm
Wednesday 3:00 pm - 9:00 pm
Thursday 3:00 pm - 9:00 pm
Friday 3:00 pm - 9:00 pm

Saturdays and Sundays by appointment


---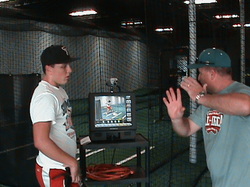 RBI features the
ProMirror Video Analysis System
for all lessons - used by Major League Baseball teams. It gives athletes immediate feedback to help them improve their skills.
RBI offers age and skill appropriate clinics year round. Informative guest speakers will provide athletes, coaches, and parents with recruiting tips, current game strategies, training ideas, and more. We also provide assistance with college recruiting.
Our goal is to develop the "complete" player; whether it is moving on from T-ball to little league or from high school to college to the professional ranks.
---
Real Baseball Instincts is located at
2676 Old Orchard Road, Jackson, Missouri 63755
For Information or to register for camps and clinics call
(573) 243-7247